About Victoria
Victoria Repka-Geller, IMBA, CIC is a Chief Marketing Officer at a boutique Manhattan advertising agency, as well as, a career and life transformational coach, speaker, corporate trainer, and marketing/advertising consultant with over 18+ years experience in Advertising and Marketing.
Victoria brings an educated and tried and true perspective that is rare and invaluable among today's personal development coaches in that she not only provides expertise, passion, and talent but she has real work life experience and is recognized for her commitment in helping executives, entrepreneurs and young professionals navigate and succeed in a corporate environment increasing their effectiveness, while accomplishing their individual goals - all with a sense of infectious humor.
Victoria achieves all this through her 5-step proprietary "Leave Your Tale Behind" coaching approach which allows her clients to make clear and informed decisions, transforming their careers and lives. Victoria's customized strategic approach results in an achievable roadmap for growth and action plan for success, leading to more effective and efficient efforts and a sense of personal accomplishment and unshakeable confidence. Victoria developed this signature system through a series of 136 one-on-one interviews, her studies at NYU and her extensive background in neuroscience and behavioral studies.
She has been featured in the NYTimes People on the Move Series, WSJ's The High Cost of Avoiding Conflict at Work and Barbara Stanny's Sacred Success.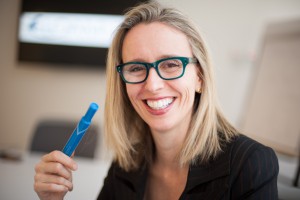 Victoria Repka-Geller