Have you ever been so scared to do something wrong that you just did nothing? Well, today I gave myself a Daily Choice™ to finally send out my first blog post.
It has been an embarrassingly long time that I have been planning to send one out and a myriad of excuses of why I haven't done so yet. But when I sat down, got quiet and really focused, I was honestly shocked with what I discovered about myself and the story/tale that I created and I needed To Own.
I was afraid. Pure and simple.
Now, most people don't see me as afraid. It's not like I have been hiding under a rock.
2016 was an explosive year for me:
I tripled my coaching business through the most wonderful way possible… through referrals from extremely satisfied clients. Check-out LOAMLife Testimonials.
I was a featured speaker at my graduate school alumni function where I spoke in front of the Cato Institute and the former Prime Minister of New Zealand, as well as on the LeVine Intervention radio show, Support is Sexy and at the NY NAMI event in Albany, where I shared my 5-Step Proprietary Career Transformation Process.
I even kicked-off my Free Career Boost Calls – next one is Sunday, March 26th here is a link to join – which are being used to inform my upcoming book launch and my online program starting in May.
And yet I still hadn't done this one thing… start my blog.
So, I sat myself down and walked myself through my own program and I could see there was something I needed To Own. (See Model Below)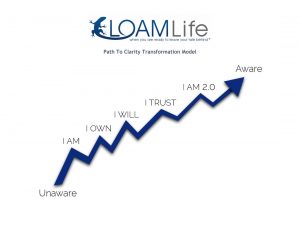 What I realized I needed To Own,  was something that happened to me a long time ago that I wasn't even aware of and was keeping me stuck.
When I first moved to New York after graduate school, I decided to go into advertising. Friends of my family had contacts and I scheduled informational interviews and shared my creative work and I was told that it was lame. (See below for proof, and yes that is a car in a condom.)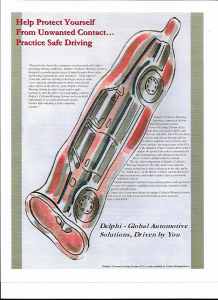 I think the actual words were it was awful and in hindsight, I can see they have a point.
This friend of the family said "You went to a grad school. Go into account management."  I figured he was the expert, so I did.
Now, I have been in the industry for almost 20 years so it wasn't bad advice, but WOW, now that I am aware of this "story/tale" there was no way I can not own how impressionable I was and how much this conversation impacted me.
When I really examined it now with years of experience, I realized that based on one person's input, I decided that anything defined as "Creative" was not my forte and I was awful at it.
Seriously, no wonder it was shutting me down.
…So, What To Do?
Well, I took one of my favorite tools from my program and solicited input from my select Board of Directors and got honest feedback.
By exposing my fears and this story about not being creative, I heard and realized that most people saw me as the exact opposite. They shared examples including my own posts on Instagram to reflect the truth. A truth that I conditioned myself not to believe based on an old tale that was now actually holding me back.
So, I share this personal story with you to let you know, that you are not alone if you are feeling stuck.
No matter what your level or stage in your career, I'm here to help.
Click this link to sign up for a free discovery call or here for dated and to join the next Free Career Boost Call.  And, please pass this on to your friends, the more the merrier!
Until then, DO IT AFRAID and as you can see… I just did!!!! #RoleModeling #LOAMLife #CareerStrategy
Victoria